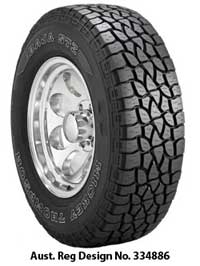 Baja Radial STZ
The STZ is the latest all-terrain design from Mickey Thompson and introduces many new modern features.  The new tread pattern design offers excellent steering response, superior grip and more traction, making it the perfect choice for work or play.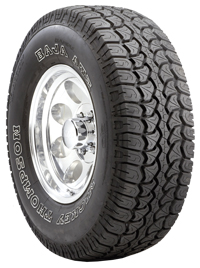 Baja Radial ATZ 5-rib
The ATZ has a 5 rib all terrain design which allows the tyre to perform equally well on and off the road. The solid centre rib enhances straight line stability (less tracking) reducing driver fatigue and reduces noise. The siped tread lugs and full tread depth gives excellent wet weather handling. 
Baja Radial MTZ
Extreme Off-roaders will appreciate the great ride and handling that this mud tyre has on the highway. The Baja MTZ has Mickey Thompson's PowerPly technology with a special angled third ply to give you high performance handling, better puncture resistance and improved towing capability.
All Baja Radial MTZ sizes feature PowerPly technology.
Claw TTC Radial
The new Baja Radial Claw TTC is all new state-of-the-art construction making it the ultimate extreme off‑road performance tyre. The Claw's 23 degree tread pattern, the ultimate angle for cutting and self-cleaning, partnered with large directional SideBiters and tough puncture resistant sidewalls, mean you get maximum traction and cleaning giving you the confidence the new Claw TTC will pull you through any situation. All sizes feature the advanced PowerPly Carcass Construction specially designed for faster steering response and rugged off-road use.